INDOOR GO-KART RACING POUGHKEEPSIE
When it comes to go-kart racing in Poughkeepsie, there is no better option than K1 Speed! Our indoor karting center – like each and every one of our centers nationwide – is designed to be a world-class entertainment venue.
If you are accustomed to go-kart tracks located on the outskirts of town in abandoned fields, you are in for a surprise! Our indoor karting center features a professionally designed race track, high-performance electric karts, and a museum collection of authentic racing memorabilia. Take everything that you think you know about karting and throw it out – we're here to redefine your expectations!   To experience indoor karting yourself, visit
K1 Speed Poughkeepsie
today. Our go-kart racing is second to none, and we can assure you that you will not be disappointed! We look forward to seeing you in our center soon.*
OPEN 7 DAYS A WEEK
MONDAY – THURSDAY
12:00 pm to 10:00 pm
FRIDAY
11:00 am to 12:00 am
SATURDAY
10:00 am to 12:00 am
SUNDAY
10:00 am to 10:00 pm
K1 Speed

 Poughkeepsie
2001 South Rd.
Poughkeepsie
,
NY
12601
Next to Regal Cinemas at the Poughkeepsie Galleria

Front Counter:
(845) 297-5409

For Corporate Inquiries, Private Parties & Birthdays
Phone: (855) 517-7333
EXPERIENCE K1 SPEED FOR YOURSELF
We make it easy to experience the thrill of indoor karting. At K1 Speed Poughkeepsie, we offer go-kart racing seven days a week, no reservation required. Simply show up with family, friends, co-workers, or simply by yourself, and take part in
our popular Arrive & Drive racing program
. Our Arrive & Drive package allows individuals to take part in 14-lap timed heats against the clock with up to 12 other drivers at once. With other racers vying for the same piece of real estate that you are, you will experience what it's like to take part in some genuine wheel-to-wheel action; and yet, because you're racing the clock and not each other, everyone has an equal shot at the win! And with our on-board, real-time data telemetry, you can monitor your lap times as you go. What makes our Arrive & Drive races particularly exciting, however, is
our go-karts
. Put simply, these aren't your fathers' go-karts. Gone are the underpowered single-cylinder lawn mower engines – noisy, obnoxious, polluting and gutless – and in their place are zero-emission, high-performance electric motors. Producing 20hp and maximum torque from zero RPM, our karts accelerate out of corners like a rocket and can reach speeds up to 45mph. Push the throttle pedal down, and don't be surprised if you get pushed back into your seat! Drive them once and you'll be hooked.
HOST A PARTY AT K1 SPEED POUGHKEEPSIE
If you would like to host a
birthday party
,
bachelor or bachelorette party
,
Bar Mitzvah
,
corporate event
or
team building exercise
at our indoor karting center in Poughkeepsie, we'd be happy to help. For parties of 8 or more people (9 or more on weekends), we have several
go-kart racing packages
to choose from, and we also offer private room rentals and catering from a number of local businesses. Whether you're seeking the thrill of indoor karting or a private room where you can get away from the action, we have your needs met at K1 Speed!
Contact our team today
to arrange a reservation or book a party. We look forward to hearing from you and would be happy to arrange a party that fits your needs and schedule.
*Please inquire about height and footwear requirements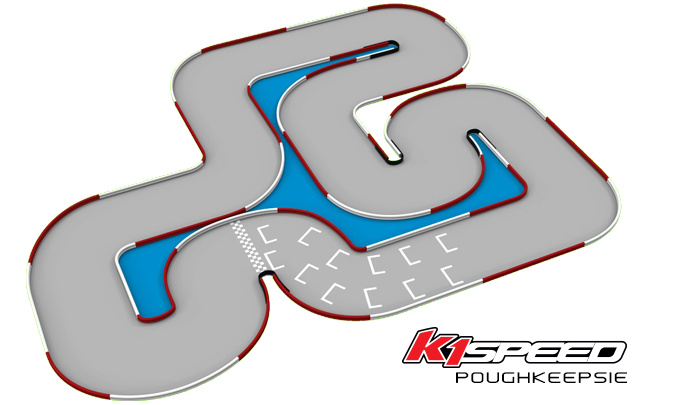 Height requirement for adult karts is 4ft 10in (58″). All junior racers must be a minimum of 4ft (48") tall to race. No mixed junior and adult races.