INDOOR GO KART RACING FORT LAUDERDALE, BOCA RATON
If you want to experience indoor go kart racing in the Ft. Lauderdale, or Boca Raton area, then K1 Speed Ft. Lauderdale is for you! Offering two indoor go kart tracks, we strive to offer novices and experts alike an authentic racing experience that can satisfy the adrenaline needs of even the most demanding driver, and are confident that you will not be disappointed with our high-performance, zero-emission 20hp electric karts. Capable of speeds approaching 45mph, our karts offer genuine thrills on our high-grip racing surface. With superb traction and torque instantly available at any speed, drivers can push the limit through high-speed corners; rest assured, you will not find them lacking! To experience indoor go kart racing for yourself in the Ft. Lauderdale, Hollywood, and Boca Raton area, we invite you to contact K1 Speed today. Our Ft. Lauderdale track is also great for corporate events.
1 Race – $19.99
2 Races – $35
3 Races- $48
Annual Membership – $8
Monday – Thursday: 12:00 pm to 10:00 pm
Friday: 11:00 am to 12:00 am
Saturday: 10:00 am to 12:00 am
Sunday: 10:00 am to 10:00 pm
K1 SPEED FT. LAUDERDALE
2950 Stirling Rd,
Hollywood

,

FL

33020
(954) 416-0044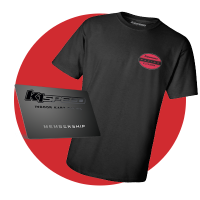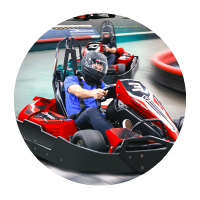 3 FOR $39 WEEKDAYS
Monday through Thursday
OFFERS CANNOT BE COMBINED. Prices are per-person and may not be shared or transferred. Does not include Membership. Blackout days and restrictions may apply. Not valid with Group Events packages.
INFO:

     Height requirement for ADULT karts is 4ft 10in (58″). All JUNIOR racers must be a minimum of 4ft (48″) tall to race. No mixed JUNIOR and ADULT races.
For Corporate Inquiries, Private Parties & Birthdays, call:
(855) 517-7333
$50 NON-REFUNDABLE, BOOKING FEE APPLIES FOR GROUP EVENTS HELD FRIDAYS, SATURDAYS OR SUNDAYS IN DECEMBER
2 RACES -

TEEN & ADULT MINI GRAND PRIX +
3 RACES -

TEEN & ADULT GRAND PRIX +
4 RACES -

TEEN & ADULT LE MANS ENDURANCE +
2 RACES -

JUNIOR MINI GRAND PRIX +
3 RACES -

JUNIOR GRAND PRIX +
EXPERIENCE ELECTRIC INDOOR KART RACING IN FT. LAUDERDALE
Like every K1 Speed indoor karting center, our Ft. Lauderdale, Florida facility features professionally designed race tracks that are laid out with the safety of our customers in mind. Renowned racecar driver Boris Said – co-owner of K1 Speed and NASCAR competitor – helps ensure that our indoor go kart tracks meet the highest standards for safety and performance, as we strive to provide racers with an unparalleled indoor go kart racing experience. We believe that K1 Speed Ft. Lauderdale is the clear choice for indoor karting in the Boca Raton area, and we are confident that you will agree!
There are a wide range of racing options at K1 Speed to meet our customers' needs. K1 Speed Ft. Lauderdale is ideal for:
In addition to our race packages and group events listed above – which can be combined with catering options or meeting room rentals – K1 Speed Ft. Lauderdale is the place for indoor kart racing in the Boca Raton area. To schedule a reservation for a group event or to get directions to our Ft. Lauderdale indoor karting center, please contact us today.
I wanted to give some very positive feedback about my recent experience at K1 Speed in Hollywood, FL. I had been working with Lindsay regarding my son's bar mitzvah party last Sunday, December 16, 2012 from 3 – 7pm. Lindsay was great. She helped me figure out the best package and other arrangements for my group of 28 kids. Michael, the manager at the facility was fantastic. He took great care of our group and made sure that everything went off without a...
- Kayla R.